2021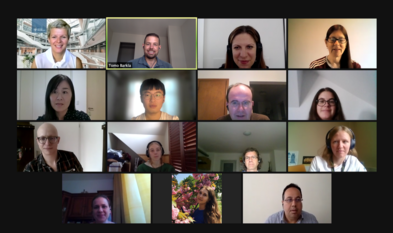 From July 29 to August 11, the Latvian Language and Culture Summer School is taking place online, with the participation of scholarship holders who have received a state scholarship, as well as other interested parties. The summer school of Latvian language and culture, which has been taking place at the University of Latvia for the seventh year, had received applications from 50 participants. Also this year, participants had the opportunity to apply for state scholarships announced by the State Education Development Agency.
This year, the summer school is attended by participants from the United States, Uzbekistan, Iran, Germany, Australia, Great Britain, Canada, Poland, Croatia, New Zealand, Ukraine, Estonia and Japan, from which there was increased interest this year due to the participation of several Japanese representatives.
Participants' knowledge of Latvian is at different levels - both without prior knowledge and with good prior knowledge of Latvian. People of different ages are interested in learning the Latvian language.
Inga Laizāne, Doctor of Philology, teaches Latvian at the summer school; Maija Treile, the curator of the Latvian Culture Canon of the National Library of Latvia, will talk about art and culture; Ilga Vālodze Ābele – about folklore and Latvian traditions; Paula Stutiņa – about Latvian art. Although the summer school takes place remotely, participants will not be denied the opportunity to get to know Latvian culture. Participants will take part in an interactive lecture - a tour of the Krišjānis Barons Memorial Museum and an interactive tour of Rīga.

Feedback and wishes from the participants of the summer school:
"I enjoyed very much to be a member of the class. Phantastic people to deal with, both lovely classmates from all over the world and the teaching staff at the university. I am sure you will gaine a lot knowledge of the language classes as well as you get introduced to a wonderful country and it's traditions. I too would like to continue at the next level." Thomas from (Germany)
Dear future participants of Latvian Language and Culture Summer School, I wish you to take a chance on this amazing adventure and to explore the beauty of Latvian language and cultural traditions. Every single lecture is like a treasure that you want to keep in your head and heart for a very long time. I wish you the joy of exploring, finding and living Latvia and its beautiful Rīga.
Sirsnīgi sveicieni, Laura Bakšytė
Thank you for everything in summer school !
I was nervous because it was the first time that I participated in such an international class.
But when I saw you in zoom, I felt relieved.
When you called me Kaori I was so happy.
I will keep studying Latvian and want it to be as good as English.
Liels Paldies !!
Thank you one more time for giving us this amazing opportunity to participate in the Summer School! I would like to wish future participants the following: Dear future participants, l truly wish you to enjoy your amazing journey into the world of Latvian language and culture ) You'll definitely have wonderful teachers and interesting, interactive classes so get the most out of it and have a marvellous time :)
Liudmyla, Ukraine
I am Xin WANG,also Līksma,the student from China.
Thank you very much for the documents,and the help during the summer school. I am very glad that this summer I had the opportunity to attend this unique school and obtained the unforgettable memory! If next summer I also have the precious chance to attend summer school,I would be very appreciative.And it will be wonderful if I can get more opportunities to talk with native Latvians,then I may know more about Latvian language,culture,folklore,even characters of Latvians,which all make me fascinated. Lastly,I want to express my happiness of meeting you,Inga,all the lecturers and my mates in the group in this lovely July!Thank you again for the work for summer school!
Best wishes,Līksma
Sveiks ! Mani sauc Džūlija Holmsa no Anglijas Donkasteras.
This is a wonderful course and I hope you enjoy it as much as I did. I could not speak or read any Latvian before attending the Summer School, but now I can. I look forward to coming to Rīga in 2022 !