2020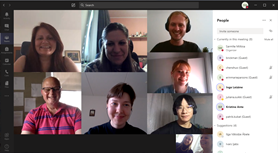 the Latvian culture online on the Microsoft Teams platform.
The summer school, which took place from July 30 to August 12, was attended by participants with very good knowledge of Latvian at B1 level and little knowledge of Latvian at A1 level. Some participants have started learning Latvian themselves, while others have been offered the opportunity to study Latvian at their universities.
During the summer school, the participants not only studied the Latvian language, but also Latvian culture, history, politics, art and folklore, as well as got to know Latvian cities and museums via interactive excursions.
"This year's UL's Latvian Language and Culture Summer School was a great challenge for all of us, because it took place online. I am infinitely grateful for all this year's students, including not only the younger ones but also the older generation. I still admire their patience, perseverance and the love they dedicate to getting to know our nation, land and language, "says Kristīne Ante, Doctor of History, who taught Latvian to the participants.
"I am very pleased that the summer school was implemented during these difficult times. Students' motivation to learn Latvian is different - for some it is the language of their ancestors, for others learning the language is a hobby, for others it helps in the study process. I really hope that our students, who did not have the opportunity to be present this year and "enjoy the real taste of summer school", will be able to implement it next summer, "hopes Doctor of Philology Inga Laizāne, who also taught Latvian at the summer school.
Also the participants evaluate the summer school very positively and cannot just wait to visit Latvia so that the acquired knowledge can be used.
"Summer is a wonderful time for doing something different than you do normally. Studying Latvian was just something I wanted to try in two weeks in summer holidays. And these were hard but wonderful two weeks, especially in this time of corona virus, you may still connect and meet new people and learn new things just from your room'' admits Patrik from the Czech Republic
Also, Shuo, the participant from China, is grateful for having an opportunity to study Latvian via online platform "You can learn about the culture and folklore of this beautiful Central and Eastern European country without leaving home. You can learn this old, beautiful and strict language in a happy and relaxed way. I don't feel the language learning barrier due to the internet barrier, the Latvian online summer course is definitely worth your time!"
The participants of the Latvian Language and Culture Summer School of the University of Latvia are the Latvian state scholarship holders, the State Education Development Agency provides financial support for organizing the summer school in the form of a scholarship, and it is intended for foreign students and academic staff.
Latvian state scholarships are awarded to support summer schools dedicated to intensive learning of the Latvian language; popularizes Latvian culture, history, education and the Latvian language and increases Latvia's recognition abroad and promotes cooperation between Latvia and abroad.
The Latvian Language Agency has been participating in the organization of the summer school for the sixth year in a row.